We celebrated Valentine's Day the night before. We came upon a moment that night when it was unusually quiet. Poppy hasn't been falling asleep while nursing lately, so we've had to resort to "other methods" to get her to sleep, mainly, the
Miracle Blanket
. Her long legs don't fit in the little pouch anymore, but her arms can still be wrapped up tight with the ample swaddling fabric. Let me introduce you to your crib, Baby. Oh, don't worry, you're still in Mommy and Daddy's room. Look, Mommy's side of the bed is right there. But this is your bed now. I know, it's not a Temper-Pedic. I don't think they make baby-sized memory foam mattresses. You'll just have to adjust.
The adjustment has taken all week.
When the moment of peace came Wednesday night, Senpai and I were downstairs, arms deep in dirty dishes. One of us mentioned, "We should probably fill out our Valentine's Day cards..." We locked eyes over the dishes and then bolted to our cards' hiding places, meeting back at the dining room table. He sat at one end, I settled down across from him, and we set to work writing cute and funny love notes inside. Once the cards were in their envelopes, we moved over to the living room to sit side by side on the couch and exchange cards. I let him open his first.
I was mostly excited to have written something, anything, in the card. His birthday card may have been given to him late, with nary a stroke of writing inside. It also may have been turned around and belatedly given to someone else. I make no claims one way or the other.
Then I got my card.
Poppy started crying, so I ran upstairs to soothe her. When I came back down, Senpai had arranged flowers, balloons, and gifts on the table. This is what it looked like the next morning:
Other highlights of the day...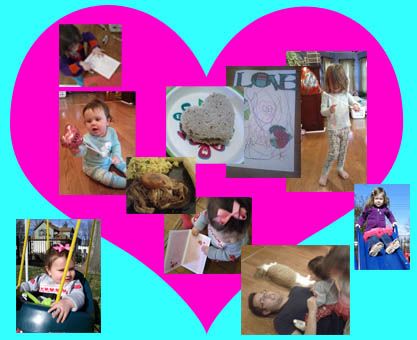 Today I found this little plant gift on sale at Target. I think I bought it for the instructions. How do you grow a Poppy? :-)
Love to all.