The last day of 2010 was spent worrying about
this storm
.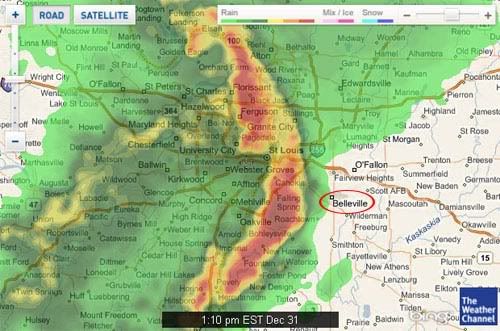 This doppler picture was taken just before the storm roared into our little town and hung around for an hour. I always thought that tornadoes couldn't form in the rain, so in my mind, we were safe as long as it was raining. The newscasters pierced that happy dream by announcing the storm was producing "rain-wrapped tornadoes," and that set off my panic alarms. We have a basement, but it is unfinished in a dank, dismal, non-baby-friendly way, so we weren't going to go down there unless we absolutely had to, which meant my ears were tuned into every thunder rumble, waiting for it to not stop but only get louder as the funnel cloud touched down in our neighborhood. But the thunder sounds came and went, the dark, terrible sky cleared up again, and the newscasters shifted their attention to the damage that had been done versus the damage that could still happen. We were safe.
Miss R rang in the new year by falling asleep to Mary Poppins.
After being unsuccessful in our attempts to kick the in-laws out of the house for the night, Senpai and I went to a party held by our neighbors. We learned the joys of Farkle, and I re-learned how to get a hangover.
Coming in to 2011, there's a glimmer of something on the horizon, and I'm holding my breath in wait for it. Love and joy to all.